We are not accepting new applicants.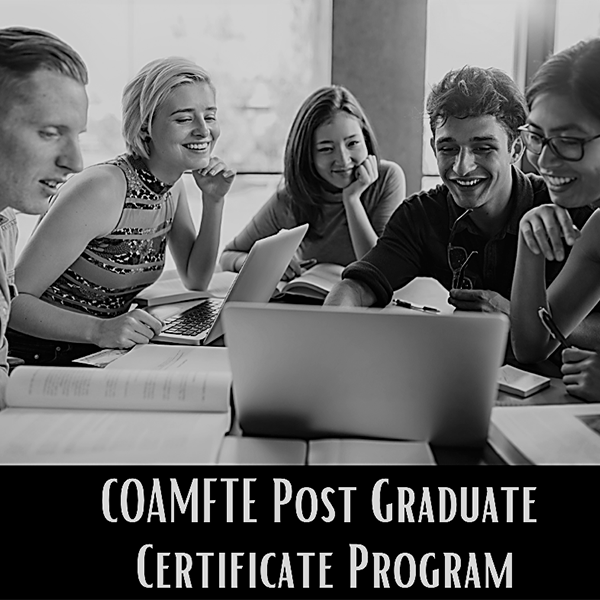 HYBRID LEARNING ENVIRONMENT
FOR THE WORKING PROFESSIONAL
BECOME LICENSE ELLIGIBLE
BECOME AN ESFT CERTIFIED THERAPIST
Clinicians with a qualifying graduate degree are eligible for the Post-Graduate Certificate Program (PGCP) and are trained in Eco-systemic Structural Family Therapy (ESFT). This COAMFTE accredited program also meets the educational requirements for a License in Marriage and Family Therapy in most states. The PGCP allows trainees to work in their local settings while they receive the highest quality training in ESFT and marriage and family therapy, using the latest educational technologies and supervision from world renowned experts in ESFT.
Mission:
The program's mission is to intensively mentor and graduate competent, culturally sensitive, ethical clinicians who recognize their strengths and limitations in the practice of Ecosystemic Structural.
Length of Program:
The average program completion rate is a minimum of three years and a maximum of six years. A certificate is awarded upon successful completion of the program.
Eligibility:
For student achievement data please click here to download. A master's, doctoral, or medical degree, in a field appropriate to clinical work with families and/or couples, is required. The degree must be awarded by a regionally-recognized institution. Applicants must have completed at least four of the required AAMFT standard curriculum courses during their graduate programs. Exceptions to this requirement may be made based on the application interview and faculty review. If such an exception is made, the trainee will be required to complete a minimum of four AAMFT standard curriculum self-studies within the program before graduation.
Learning Outcomes:
Demonstrate proficiency of required knowledge in the MFT field.
Demonstrate competence in the delivery of Ecosystemic Structural Family Therapy (ESFT).
Practice within legal and ethical guidelines.
Demonstrate cultural competence within clinical practice, which includes a sensitivity to issues of age, gender, sexual orientation, religion, spirituality, health/ability, culture, ethnicity, race, nationality and socioeconomic status.
Complete the mandatory requirements to be eligible for a state MFT
license.
---
Three Components Comprise the Intensive Program
1. Classroom: Hybrid Self-study Courses (4 required; up to 8 if needed to remediate knowledge deficiencies)
4 Required Courses:
Theoretical and Historical Development of Family Therapy,
Part I & Part II
Ecosystemic Structural Family Therapy
Developmental and Clinical Issues
2. Training group (3-5 participants) with outpatient cases provided.
3. Individuals must complete 45 supervision hours in conjunction with a minimum of 500 (250 relational) client contact hours that must be completed. Individual and group supervision, one-way mirror/DVD/role play, and case discussion for 18 Mondays over an eight-month period from October to March from 2 to 7 pm.